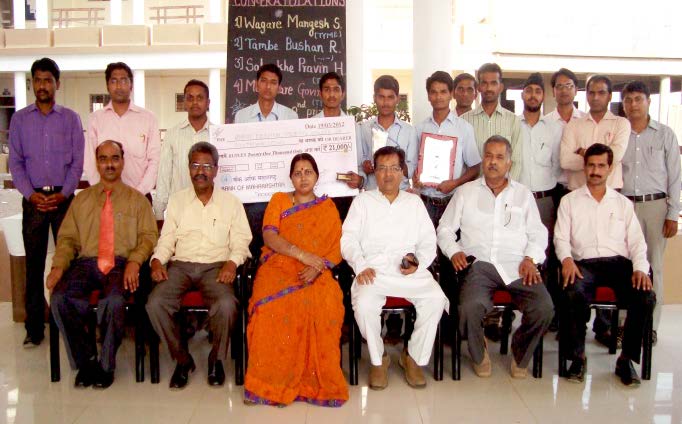 Second prize went to "Eco Friendly water hybrid bike" presented by Mangesh Wagare,Tambe Bhushan, Govind Mandhre and Pravin Salunkhe of Abhinav Educat ion Society' s College Of Engineering & Technology (Polytechnic), Wadwadi Tal-Khandala, Dist-Satara.Guided by Shree Rahul Khot.The project was based on the use of electrolysis process for conversion of water into hydrogen gas & introducing into internal S.I.Engine to enhance the performance of engine. This will help in reducing pollution & improvement in efficiency of engine.
SPORTS
Bronze medal for India in Asian Silamban competition held at Kanyakumari (International level)
One Bronze in Karate & One Gold in Dandpatta competition held at National Level competation
Three Gold , One Silver & a Bronze medal in Running, Wrestling, Triple Jump competition at State Level.
Five Gold, Five Silver Medals & Nine Bronze medals in various sports events at Zonal level.
Zonal Level Winner in the sport of Badminton
Zonal Level Runner Up in the sport of Table Tennis
Zonal Level Eight Medal in the sport of Wrestling
Zonal Level Three Medal in the sports of Weight Lifting.
SOCIAL ACTIVITIES
Street Play in the memory of Smt. Savitribai Phule, in the streets of Naigaon Palshi which is Birth Place of Smt. Savitribai Phule was appreciated and won hearts of all people.
On the occasion of the Campus Foundation Day various events like Blood Donation, Yoga and Meditation, Tree Planting, PUC Camp which were held to create social awareness amongst the students.
Free Pollution Check-up camp was held by institute, at Shirwal