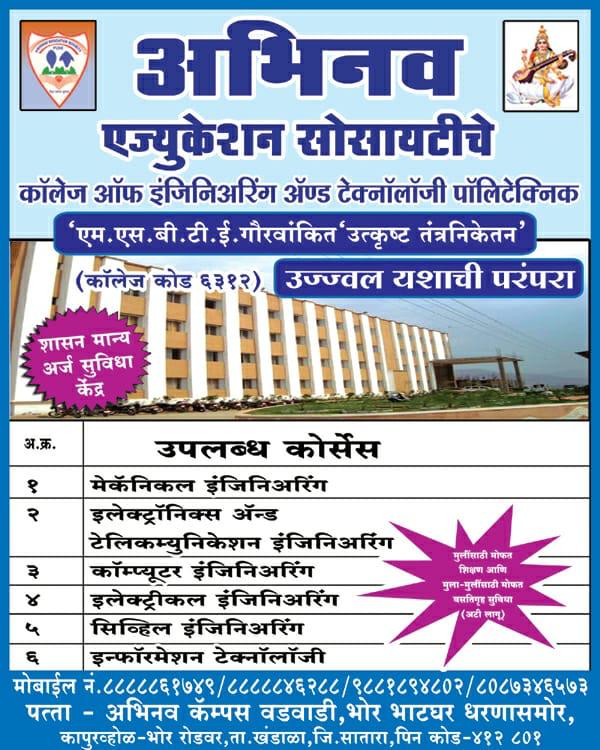 Eligibility criteria for Maharashtra State Candidate and Outside Maharashtra State Candidate for admission to First year of diploma courses in Engineering / Technology Candidate should be an Indian National and should have passed the SSC (Std.X) examination of Maharashtra State Board of Secondary and Higher Secondary Education or its equivalent examination with minimum 35% marks in Best of 5 aggregate.
Note:
The term 'aggregate marks ` used here shall mean the grand total marks obtained by the candidate, taken together for best 5 Subjects.
For State Board Candidates who have passed Mathematics(Code71) and Science & Technology (Code 72) are only eligible for admission. In case of ICSE & CBSE boards, candidate passed with Science and Mathematics is eligible for admission.
Best of 5 aggregate marks in case of candidates who have passed qualifying exam on or before 2009 shall be decided by selecting any 5 subjects in which maximum marks are scored.
ICSE candidates shall have following options

a. Out of 6 subjects comprising of 4 subjects from Group 1 and 2 subjects from Group 2, best of 5 subjects marks shall be considered for admission /Merit.
b. All 7 subject marks shall be considered for admission /Merit in case of seeking benefits of marks of subject from group 3.

For CBSE Candidates :- if the marks are given in the form of Grade points the equivalents % of marks shall be calculated as follows.

The CGPA is the average of grade points obtained in all the subjects excluding additional sixth subject as per scheme of studies
Subject wise indicative % of marks = 9.5x GP of the subject
Overall indicative % of marks= 9.5xCGPA

ICSE and CBSE candidates are required to provide equivalent marks authorized from the concerned institute /Board in case of marks given in Grades.
Candidates passing SSC examination form Maharashtra Board having included marks for sports etc. in grand total mentioned in the mark sheet shall be considered.
The seats remaining vacant, if any, only in Un-Aided Polytechnics, after offering admission to all Maharashtra candidates on the Merit list will be offered to the eligible candidates from the states other than Maharashtra state as per the following guidance. All OMS candidates will be considered as general category & will have eligibility criteria as mentioned in above. Eligibility Criteria for outside Maharashtra states students (OMS)